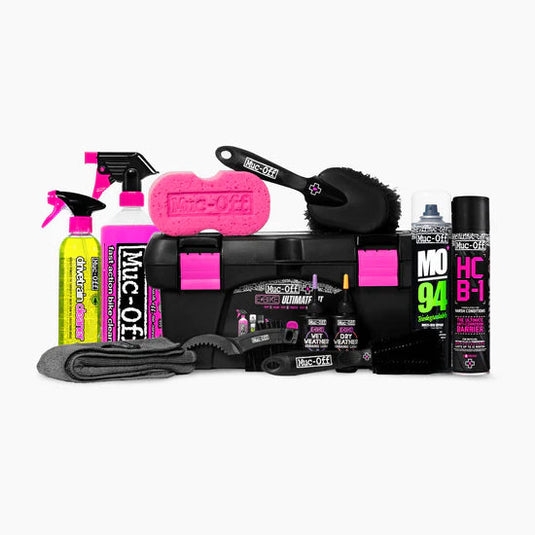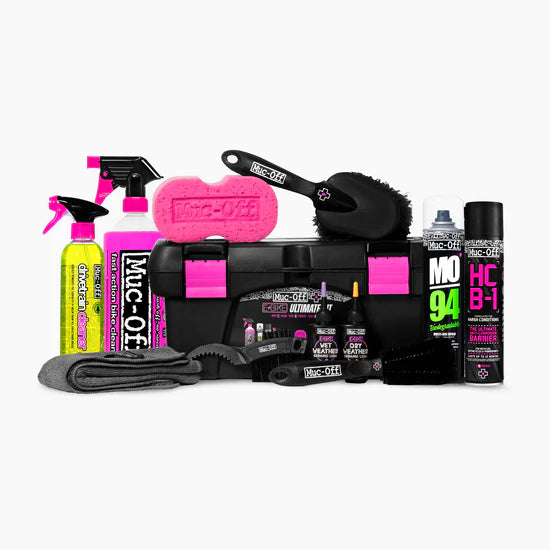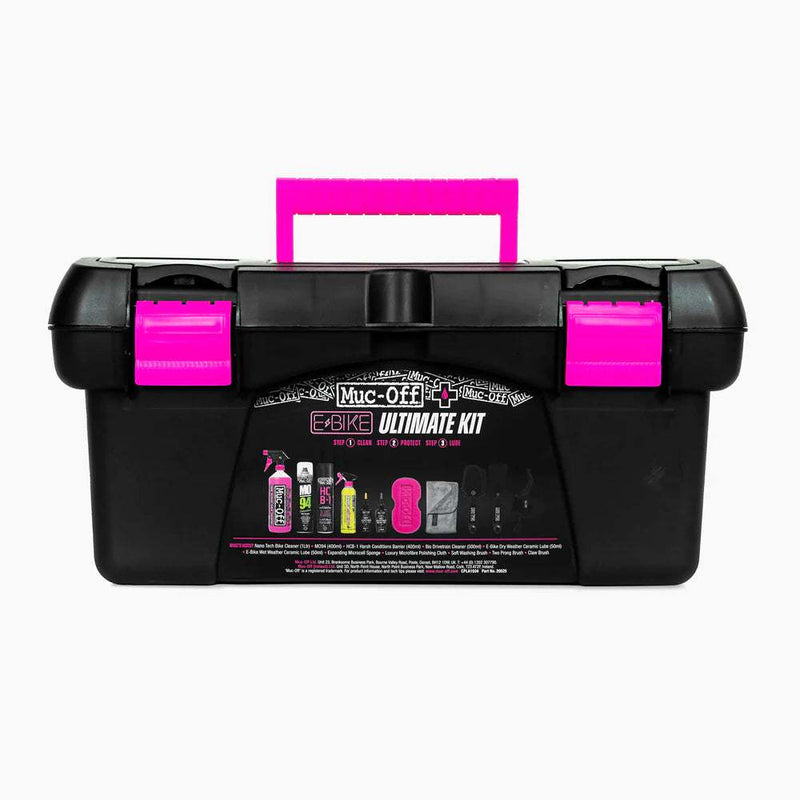 Full-time eBike shredder? This kit is gonna be right up your street!
The Muc-Off eBike Ultimate Kit has everything you could ever need to look after your electric steed. The kit contains two of our eBike specific lubes, that have been formulated with a unique eBike lubricity additive pack that laughs in the face of the extra torque, and can withstand a beating from even the most powerful eBike drivetrains! Combine that with a bundle of cleaner, cloths, brushes and protective sprays and you've got yourself a party!
eBike Dry Lube
Creates a dry ceramic coating for increased durability and dry condition performance
Contains Boron Nitride compounds
Ceramic compounds provide ultra-low friction for unparalleled lubrication
Non-dust attracting - excels in dry and dusty conditions
Utilises biodegradable organic compounds
eBike Wet Lube
Specifically designed for the hi-torque loads applied to an eBike chain.
Creates a ceramic coating for incredible durability and long-distance performance
Contains Boron Nitride compounds
Ceramic compounds provide ultra-low friction for excellent efficiency
Waterproof - excels in wet conditions
Readily biodegradable
Ideal for road and off-road
Integral UV tracer dye - aids accurate application to ensure total protection.
Nano Tech Bike Cleaner
Safe on all parts and surfaces including carbon fibre
Will not harm seals, cables, brake pads or rotors
Safe on anodised metal
Alkaline based and free from CFCs, solvents, or acids
Nano Tech Formula cleans on a molecular level
Biodegradable
Drivetrain Cleaner
Biodegradable*
Fast and effective grease cutting formula
Removes all chain oil and wax residue
Safely eliminates drive chain contaminants
Ideal for use with chain cleaning devices
Trigger spray included for easy application
Deep cleans all drive chain areas in seconds
*Only contents are biodegradable
MO-94
Free seized parts
Disperses moisture to prevent rust and corrosion
Provides light lubrication for moving parts
Reduces metal to metal contact
Prevents dirt adhesion
Cuts down on friction to improve component efficiency
Weight - 400g
Biodegradable*
* Contents only.
Expanding Microcell Sponge
Compact
Ergonomic shape for maximum comfort and ease of use
Vacuum packed
Claw Brush
Ideal for chains, cassettes, mechs and sprockets 
Scraper for mud de-clogging
Durable ultra-stiff nylon brushes ensure even the toughest of grime can be cleared
Features 3 brush heads
Two Prong Brush
Great for reaching tough, hard to reach spots
Ideal for forks, spokes, discs, shocks, cranks, and pedals
Suitable for all types of bikes
Rubberised ergonomic handle
Durable nylon bristles 
Soft Washing Brush
Rubber edges for maximum protection
Oversized head for fast cleaning
Dual density handle for tough grip
Microfibre Cloth
Super-soft, high-quality cloth
Safe to use on all surfaces
Deep-pile material traps dirt deep in the pile of the cloth preventing scratches or swirling
Split-fibre technology for increased absorbency
Machine washable
HCB-1
Quick and easy to apply
Dissolves existing rust
300+ hours salt spray to ASTM B-117
Thin transparent film
Strong capillary action allows the product to get into tight cracks and crevices
Contains UV application dye to ensure complete protection
Resistant to hot, cold, and salt-water
Ideal for use in harsh environments
Creates a self-healing barrier, active for up to 12 months
Safe to use on electrical components, paintwork, and most rigid plastic trim
Contains no wax silicon, Teflon, or water
Perfect for bicycles, e-bikes, and motorcycles

HOW TO

Shake bottle vigorously
Spray Bio Drivetrain Cleaner all over the drivetrain including cassette, chainrings, chain and derailleurs
Leave for up to 1 minute and agitate with a Claw Brush where required. (If you are using with a chain cleaning device, unscrew the trigger sprayer and fill the device with the formula)
After agitation thoroughly rinse off with water making sure all of the formula has been removed
Rinse the entire bike
Spray Nano Tech Bike Cleaner over the bike frame and wheels and leave to soak for a few minutes before aggitating with a soft brush and rinsing with water
Now apply HCB-1 to the bike frame and any electrical components, such as the battery casing and motor. Remove any excess with a Microfibre Cloth
Allow the formula to cure for up to 24 hours for the best possible protection
Ensure drive chain area is dry
Apply a moderate amount of Wet/Dry Lube to the inside chain link while spinning pedals in a reverse motion
Wipe away any excess lube